Hi everyone,
I'm organizing the first book discussion.
What is it? We will meet in small group at the library and talk about a theme (Chinese New year) with the help of some simple books with pictures. Its more like a discovery meeting about Chinese New Year. Everyone will bring a book they have read and will exchange 5 things that they've learned by reading the book. Its simple English conversation on a subject illustrated by the books you bring.
For this meeting:
Level of book:
Very easy
, children book, illustrated (you can find nice books in the Children section of the Carnegie Main Library)
The theme will be:
Chinese New Year
Where:
Carnegie Main library
Oakland
When:
Wednesday 6th February 10am
-...whenever you have to go
Bring: a book and write the 5 things you learned in the book
For more information click on MP to contact me or just reply to this post.
Chinese Taiwanese are most welcome to talk about their personal vision of Chinese New Year.
Here is the book I chose: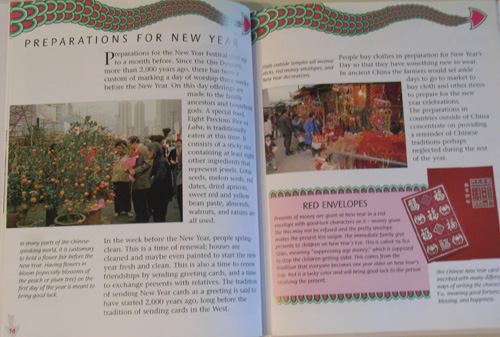 See you soon!
Aurelie
Aurelie--would you like the list of the people who signed up to join a book club? There are a lot!!!! Ann
Forum Official member





Number of posts

: 11


Home country

: USA


Languages

: English, French, German-- a little Spanish


Job/hobbies

: gardening, travel, books, knitting


Everything about me

: I have five kids and have been going to IWAP for years. It is one of my favorite places to be because of all the wonderful people who make up our group. I enjoy biking and swimming too and you can just about always find me weeding the garden in the spring and summer.


My living area

: Fox Chapel


Registration date :

2008-01-30



I haven't had any answers.... so yes maybe send me the list... or maybe if Lina could send a general mail? I don't know how to make this first try work...

In any case I will be there. I'll see how it turns out.
Aurelie
I am not done yet with the email for the ski tomorrow… It seems to be simple to send email but…
Since we had more than 100 recipients, Yahoo doesn't allow me to sent in BCC (blind copy) to more than 100 people within 2h, sometime longer… I cut the member list into 3 and have been trying every hour for hours now… It's making me crazy.
Meanwhile, I'm receiving failure notices (incorrect address) and no delivery notices (anti-spam system)…
We will talk about that in another topic.
Admin





Number of posts

: 46


Home country

: usa


Languages

: HTML


Job/hobbies

: Internet


Registration date :

2008-01-18



No success... nobody came... I hope Radka will have more replies.
The beginning is always difficult...
Forum Master





Number of posts

: 125


Home country

: France


Languages

: French, Chinese


Job/hobbies

: In charge of the Website / Cooking


Registration date :

2008-01-21



Hi Aurelie,
I am so sorry that you were alone at our first meeting

Did you get my message through MP?
I am so interested in this book club and if my poor English is not big problem, I hope I could be a member of this club.
I think we can discuss about it more.
See you tomorrow

~
Forum Official member





Number of posts

: 10


Home country

: Korea


Languages

: Korean


Job/hobbies

: watching movie, traveling


My living area

: Bethel Park


Registration date :

2008-02-04




---
Permissions in this forum:
You
cannot
reply to topics in this forum